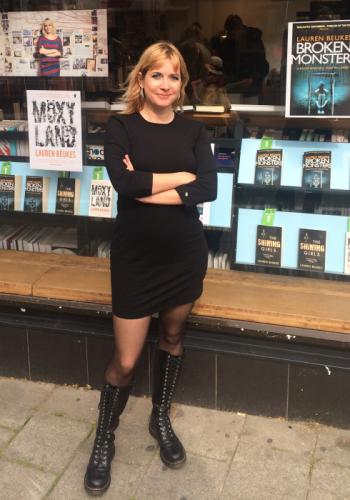 Lauren Beukes is an award-winning, internationally best-selling novelist who also writes comics, screenplays, TV shows and journalism. Her novels, including The Shining Girls, Broken Monsters and Zoo City have been translated into 23 languages and are being developed for film and TV.
Beukes is a former journalist, who has covered HIV+ beauty pageants, ganglands cops and great white shark tourism. She has an MA in Creative Writing from the University of Cape Town. Her fiction has been described as high-concept and genre-blending, with a social conscience that examines the fracture points of society and who we are.
She's won the Arthur C Clarke Award, the University of Johannesburg prize, the August Derleth Award for Best Horror, the Strand Critics Choice Award for Best Mystery Novel, the RT Thriller of the Year and the Mbokodo Award. Her work has been praised by Stephen King, George RR Martin, James Ellroy and Gillian Flynn as well as The New York Times, The Guardian and NPR.
Her other published work includes the corporate dystopia, Moxyland, the non-fiction, Maverick: Extraordinary Women From South Africa's Past and a collection, Slipping, short stories, essays and other writing.
She's also written comics, including Survivor's Club, an original horror series with Dale Halvorsen and Ryan Kelly, the NYT-best-selling Fables spin-off, Fairest: The Hidden Kingdom with Inaki Miranda, and a Wonder Woman-in-Soweto one-shot for kids, The Trouble With Cats with art by Mike Maihack.
In animation, she was head-writer, co-creator and occasional director of URBO: The Adventures of Pax Afrika, a sci-fi action adventure show for 7-9 year olds, which ran for three years and 104 x24min episodes on SABC. She has also written for Disney UK's Florrie's Dragons and Mouk.
In 2010, she directed a documentary, Glitterboys & Ganglands, which won best LGTBI film at the Atlanta Black Film Festival.
She's given talks on storytelling at tech/culture/design/lit conferences around the world, including Tedx Johannesburg, Webstock and D-Construct. She's spearheaded charity art show fundraisers for all her books, raising R100 000 for RapeCrisis and R350 0000 for kids lit org, Book Dash.
When she's not on tour, or travelling for research, from Detroit to Zagreb, Muskat to Port-au-Prince, she lives in Cape Town, South Africa with her eight year old daughter.