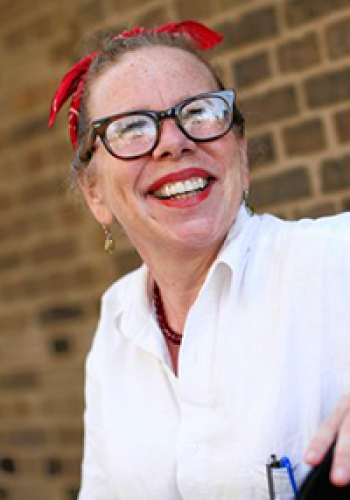 Born 1956 on Hiway 14 in Richland Center, Wis., daughter of an Irish/ Norwegian/ meat-cutter and an Irish/Filipina immigrant employed as a hospital housekeeper, Lynda Barry attended The Evergreen State College (Olympia, Washington) during its early experimental period (1974-78). She studied under painter and writing teacher Marilyn Frasca for two years, trying to answer this one question: What is an image? This question has guided Barry's work ever since.
In 1979 while pursuing a career as a painter, Barry began drawing a weekly comic strip which incorporated stories considered to be incompatible with comics at the time: stories, as Barry puts it, "that had a lot of trouble in them." Widely credited with expanding the literary, thematic and emotional range of American comics, Barry's ground-breaking weekly strip ran for 30 years.
In a career spanning nearly 35 years, Barry has authored 17 books, worked as a commentator for NPR, had a regular monthly feature in Esquire, Mother Jones Magazine, Mademoiselle, and on Salon.com. She created an album-length spoken word collection of stories called, "The Lynda Barry Experience," and was a frequent guest on David Letterman.
She also adapted her novel, The Good Times are Killing Me into a long-running off-Broadway play (since published by Samuel French and performed throughout the country)
Barry is also a sought-after visiting artist and speaker. She teaches a popular writing workshop called "Writing the Unthinkable" all around the country and is known for her lively teaching style and strong dedication to her students.
Barry has received numerous awards and honors for her work, among them two William Eisner awards, The American Library association's Alex award, the Washington State governor's award, the Wisconsin Library Associations RR Donnelly Award, and in 2008, her book, One! Hundred! Demons! was required reading for all incoming freshmen at Stanford University. Her novel, Cruddy, (which The New York Times called "A work of terrible beauty") has been translated into French, Italian, German, Catalan and Hebrew.
Barry lives in rural Rock County, Wis., where she and her husband, Kevin Kawula, have a native tree and plant nursery.
She's at work on an illustrated novel called Mr. Birdis and a documentary in comic book form about industrial scale wind farms in Wisconsin.