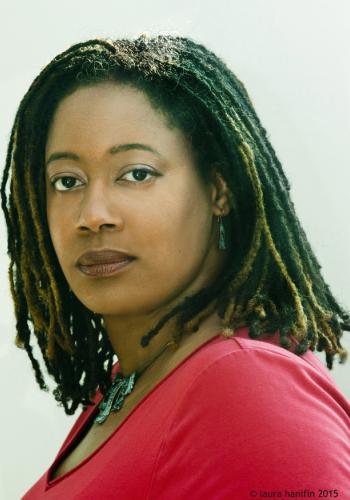 N(ora). K. Jemisin is an author of speculative fiction short stories and novels who lives and writes in Brooklyn, NY. Her work has been multiply nominated for the Hugo, the Nebula, and the World Fantasy Award; shortlisted for the Crawford, the Gemmell Morningstar, and the Tiptree; and she has won a Locus Award for Best First Novel as well as several Romantic Times Reviewer's Choice Awards. In 2016, she became the first black person to win the Best Novel Hugo for The Fifth Season. In 2017, she won Best Novel again, for The Obelisk Gate.
Her short fiction has been published in pro markets such as Clarkesworld, Tor.com, WIRED, and Popular Science; semipro markets such as Ideomancer and Abyss & Apex; and podcast markets and print anthologies. Her first eight novels, a novella, and a short story collection are out now from Orbit Books. (Samples available in the Books section; see top navigation buttons.) Her novels are represented by Lucienne Diver of the Knight Agency.
She is a member of the Altered Fluid writing group. In addition to writing, she has been a counseling psychologist and educator (specializing in career counseling and student development), a hiker and biker, and a political/feminist/anti-racist blogger. She currently writes a New York Times book review column named Otherworldly, in which she covers the latest in Science Fiction and Fantasy.