Editor's note: In the radio interview attached to this story, Bone describes several personal experiences eating mushrooms, including some species that can be poisonous if prepared incorrectly. Before cooking or consuming any mushrooms you might find in the wild, be sure to do independent research and understand the risks.
Eugenia Bone's obsession with mushrooms began with her love of eating them — porcinis, candy caps, chanterelles, shiitakes and morels. She delights in the earthy smell, taste and texture, and goes to great lengths to hunt for mushrooms in the wild.
Bone, a food and nature writer, is the author of "Mycophilia" and "Microbia," and is a former president of the New York Mycological Society.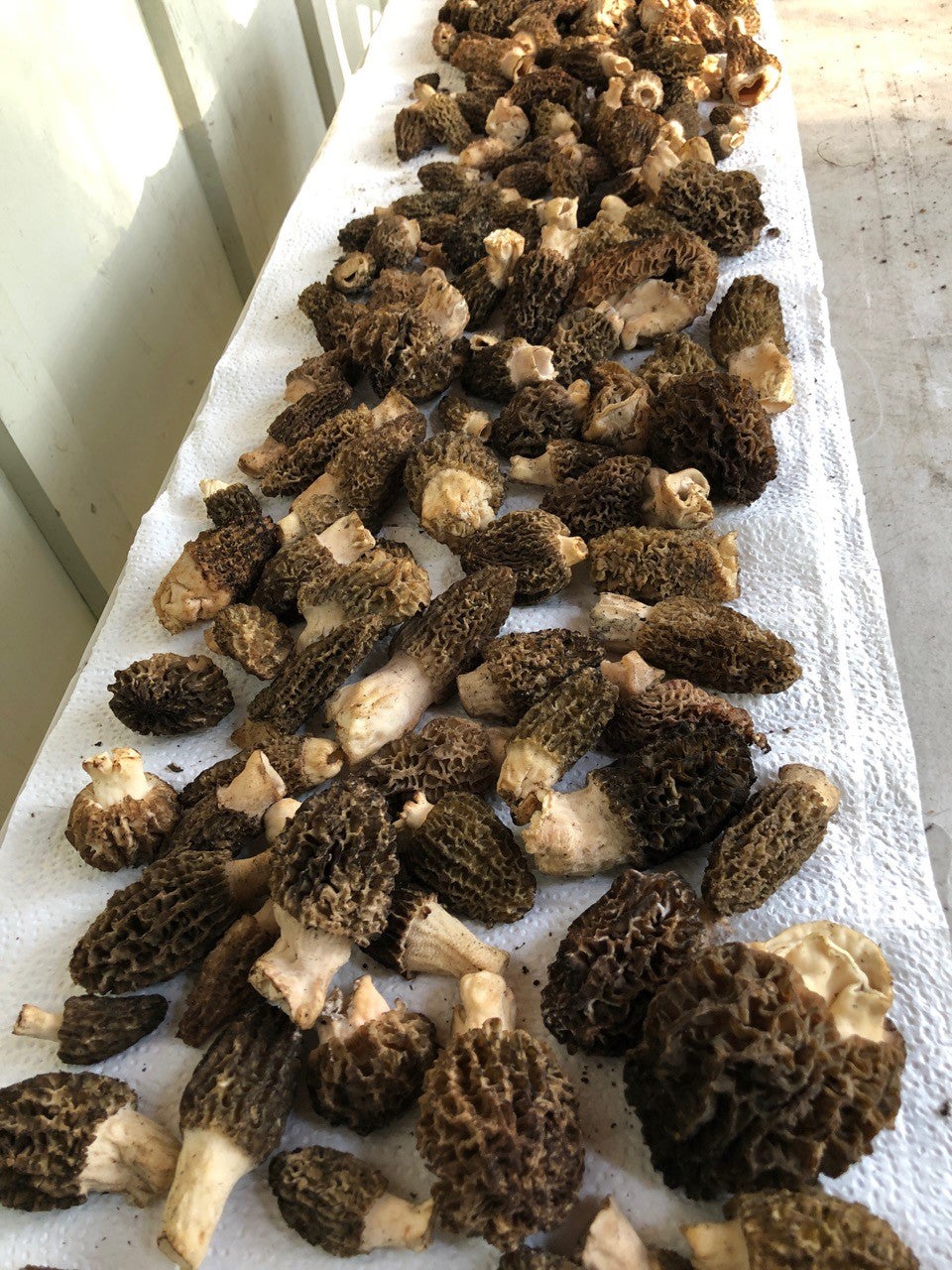 Morels on a table. Photo courtesy of Eugenia Bone
I spoke with Bone as she was about to embark on a morel foraging trip to the Sierra Nevada in California. A strange but natural effect of the raging wildfires has been the emergence of more of this particular kind of mushroom after the burn.
The hunt is magical, the way Bone describes it. And she usually fills a big duffel bag of morels to take home.
"You're walking along a trail and you're not seeing any mushrooms, and then you see one mushroom and then suddenly you see hundreds everywhere," Bone said. "It's like they were always there but some veil was lifted from your eyes and this population reveals itself."
She calls mushrooms "a bridge between the unseen and seen worlds."
Bone shared her photos from the hunt, as well as some of her favorite mushroom recipes, excerpted from her books "The Kitchen Ecosystem" and "Well-Preserved." The recipes have been lightly edited for clarity.
---
Ricotta And Marinated Mushroom Pie
I've also done this recipe with imported Italian marinated mushrooms, and it works great. The original calls for marinated artichokes.
1 nine-inch pie

2 cups flour
2 large eggs
1/2 cup cold unsalted butter (1 stick) plus 1 tablespoon
1 teaspoon warm water
1/2 teaspoon yeast
1/2 teaspoon salt
2 pounds ricotta (or two 15 ounce containers)
1/4 pound boiled ham, cubed (about 1 cup)
1 cup marinated mushrooms, drained
2 egg whites
3 tablespoons chopped parsley
1/2 teaspoon nutmeg
Salt and freshly ground black pepper
Preheat the oven to 350 degrees Fahrenheit. Butter a deep 9-inch pie plate with 1 tablespoon butter.
Make the crust. Place the flour and eggs in a food processor. Cut the butter into little pieces and add. Combine the yeast and water in a small cup and add it to the flour mixture. Add the salt. Process the dough for about 45 seconds, until it forms a ball or many small balls.
Form the dough into two separate patties, one a little larger than the other. Wrap the dough patties in wax paper and let them rest in the refrigerator for 30 minutes.
In a large bowl, combine the ricotta, ham, mushrooms, egg whites, parsley, nutmeg, salt and pepper.
On a lightly floured surface roll out the larger dough ball by pressing in the center with your rolling pin and slowly rolling outward in all directions. Place the dough in a deep-dish pie plate.
Place the ricotta and mushroom mixture into the pie pan.
On a lightly floured surface, roll out the remaining dough ball by pressing in the center with your rolling pin and slowly rolling outward in all directions. Place this crust on top of the pie. Crimp the edges to seal and cut a few slashes in the top crust. Brush the top of the crust with a little water or beaten egg and bake for 1 hour, until the crust is golden brown.
Serve immediately or in a few hours. Wrapped carefully, it holds up well in the fridge overnight.
---
Marinated Mushrooms
These mushrooms will marinate in the fridge, and hold for at least 10 days. They are very versatile, and quite delicious. I use them on crostini, mixed with grilled scallops to make an antipasto salad, on pizza and in ricotta pie. You can sauté the mushrooms in 100 percent coconut oil instead of olive oil. This lends a lovely sweetness to the dish.
Makes about 3 pints.
1 1/2 pounds mixed cultivated mushrooms, like white buttons, shiitake, oyster, and maitake
4 tablespoons olive oil
4 sprigs fresh thyme
1 4-inch sprig fresh rosemary
1 bay leaf
10 peppercorns
½ teaspoon lemon zest
1 to 2 tablespoons minced garlic
1 3/4 cups olive oil
¼ cup lemon juice
Salt and freshly ground black pepper
Clean and slice the mushrooms, but do not mix them together. Here's why: different mushrooms cook at different rates, so it is best to do a batch of all the same species at a time.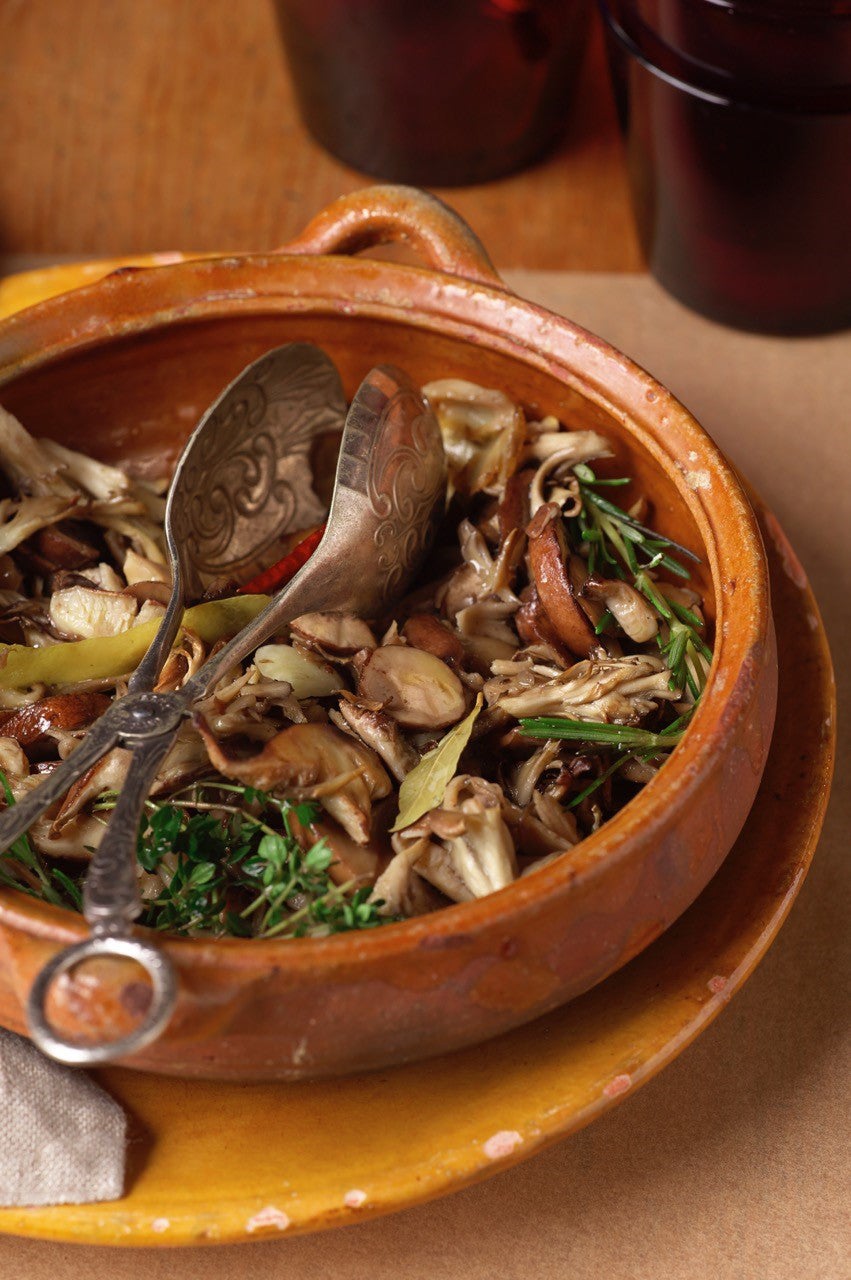 Marinated Mushrooms. Photo courtesy of Ben Fink
Heat 1 tablespoon of olive oil in a large nonstick skillet. Add one species of mushrooms, and cook until they are golden and fork tender. Some will release quite a bit of water, and you should cook those until their water has mostly evaporated. All mushrooms will cook within 10 minutes. Pour the cooked mushrooms into a large non-reactive bowl, and continue with the remaining olive oil and remaining species of mushrooms.
Or you can roast them. Preheat the oven to 400 degrees Fahrenheit. Chop the mushrooms to a uniform size (I like bigger rather than smaller pieces) and place on a baking tray. Sprinkle with olive oil and salt. Bake until the mushrooms are tender. They will be golden and slightly crispy on the edges, about 10 minutes.
Once all the mushrooms are cooked and in the large bowl, add the thyme, rosemary, bay leaf, peppercorns, (count them — you will have to fish them out later), lemon zest, garlic, olive oil, lemon juice and salt and pepper. Stir to combine, cover with plastic wrap and refrigerate for 24 to 36 hours.
Have ready three sterilized pint jars, bands, and lids. To sterilize the jars, bands, and lids, boil them in water for 10 minutes. You do not need to use new lids because you will not process these jars. Spoon the mushrooms into the jars. Wipe the rims, place on the lids, and screw on the bands. Fish out the bay leaf and peppercorns before serving.
---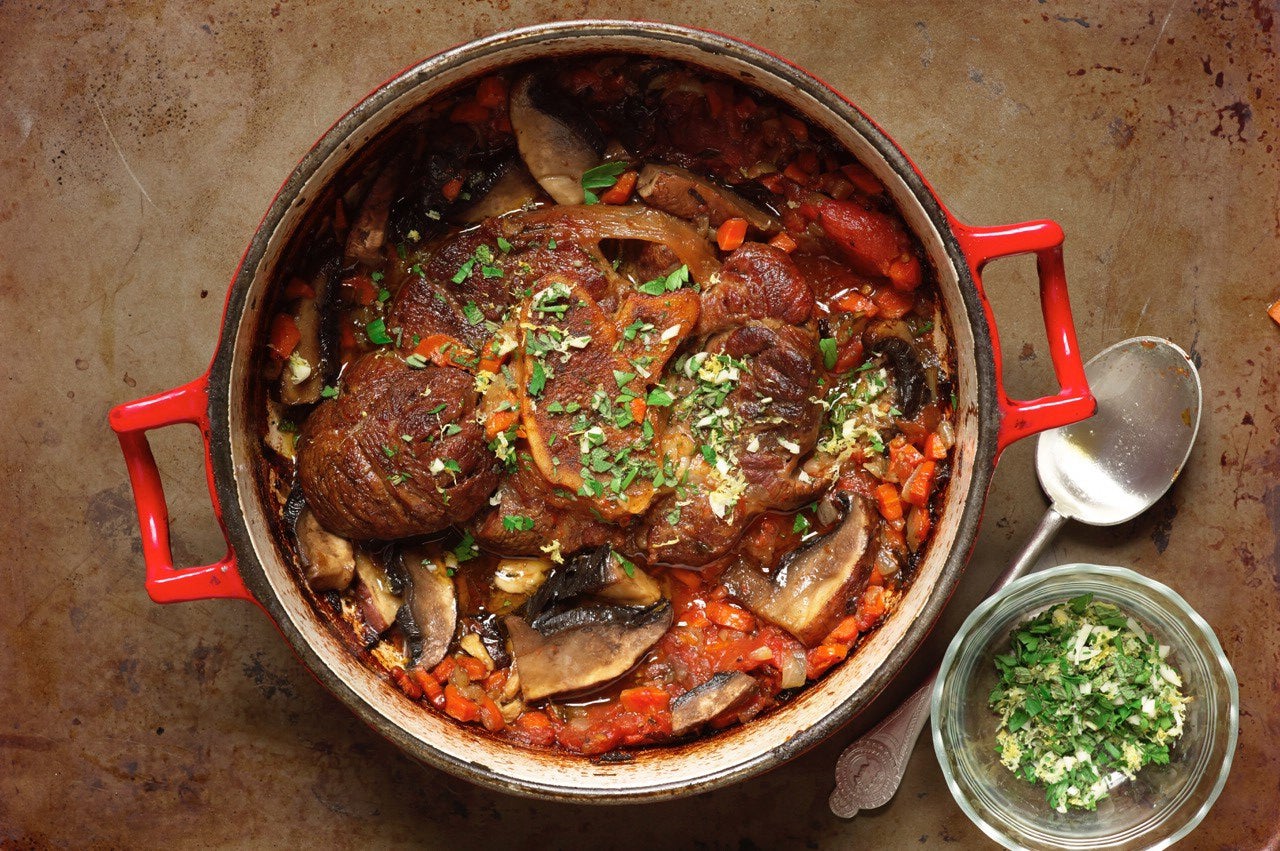 Osso Bucco with Mushrooms Photo courtesy of Ben Fink
Osso Bucco With Mushrooms
This recipe serves four.
It's my father's Osso Bucco recipe.
Like all of his cooking, it is simple, honest, and savory.
I always have leftover bones, some meat, and a bunch of vegetable remnants soaked in gelatin and fat. This makes an awesome base for a lentil, chickpea, or bean soup. Just add the beans and water and cook until the beans are tender. (Throw in any leftover mushrooms and the gremolada, too.) I've made this recipe with elk shanks, too. Awesome, though they need to cook a bit longer. You can use any combination of mushrooms in this recipe, cultivated or wild.
4 pieces veal shank, 1 ½ to 2 inches thick (about 2 pounds)
Flour for dredging
2 tablespoons olive oil
2 garlic cloves
1/2 large onion, chopped (about 1 cup)
1 large carrot, chopped (about 1 cup)
2 tablespoons fresh basil, chopped (or 2 teaspoons dried)
Salt and freshly ground black pepper to taste
1 cup white wine
2 cups crushed tomatoes (I use homemade)
2 tablespoons butter
½ pound mushrooms, sliced (about 2 cups)
For the Gremolada
2 tablespoons minced flat-leafed parsley
1 tablespoon minced garlic
1 tablespoons minced fresh sage or 1 teaspoon dried
1 teaspoon lemon zest
Preheat the oven to 400 degrees Fahrenheit.
Place about 1/2 cup of flour on a plate and dredge the veal. Heat the oil in a large oven-safe pot with a fitted lid (I use a 12-cup Le Crueset pot). Brown the veal shanks, about 5 minutes on one side, then add the garlic cloves. Brown the shanks for about 5 minutes on the other side, then add the onion, carrot, basil, salt and pepper to taste. Continue browning the shanks, cooking until the onions are soft, about 5 minutes more. Add the wine, lower the heat to low and cook for 10 minutes, until the wine evaporates, then add the tomatoes and butter. Cover and simmer the osso bucco for a few minutes to meld the flavors, and then place the pot in the oven. Cook for 30 minutes.
Remove the pot and add the mushrooms. Lower the heat to 350 degrees Fahrenheit and return the pot to the oven. Cook for another 30 minutes until the shanks are meltingly tender.
In the meantime, prepare the gremolada. Combine all the ingredients in a small bowl. Remove the shanks and serve garnished with the gremolada.
---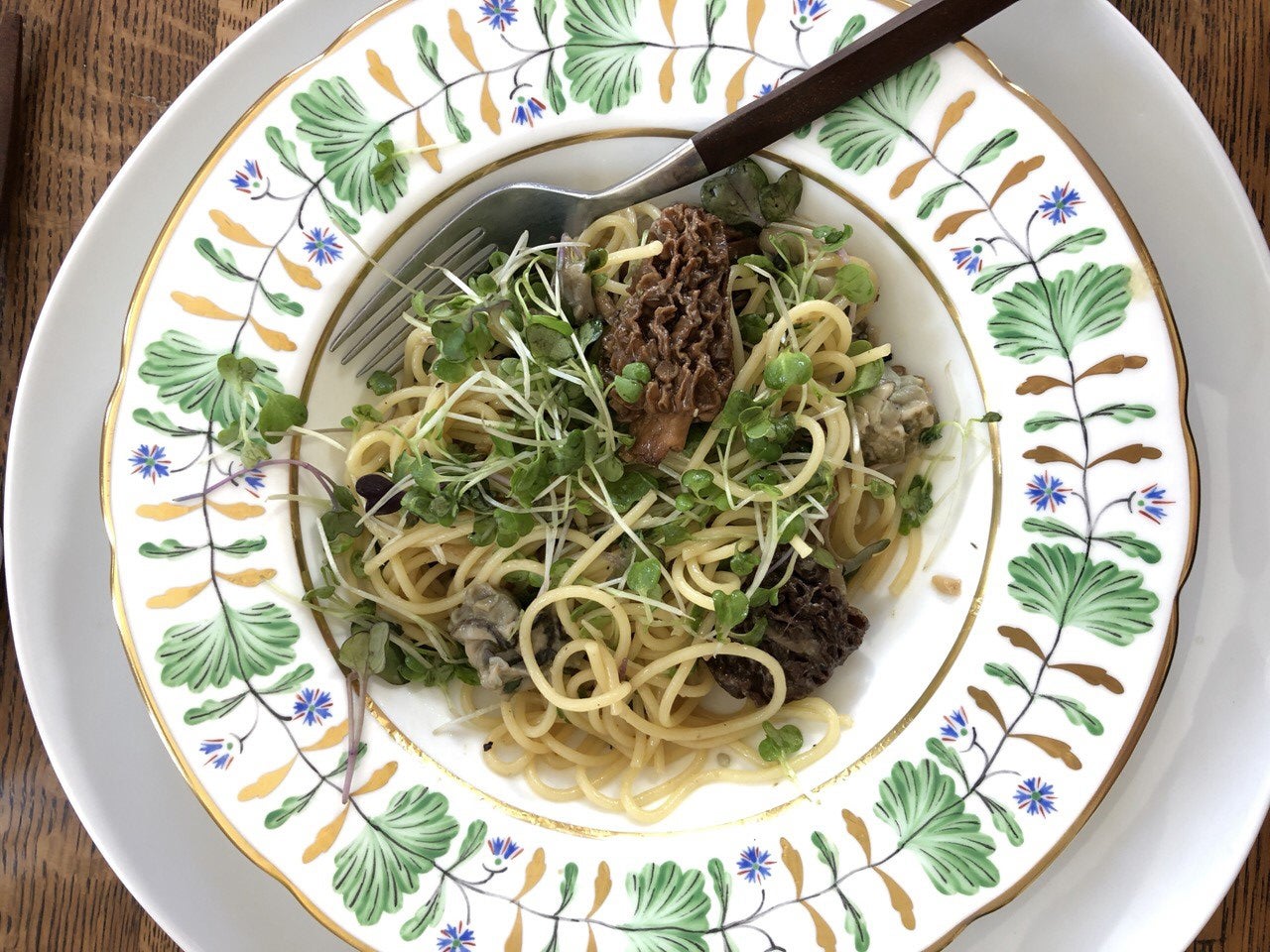 Spaghettini with Oysters, Morels and Pea Shoots. Photo courtesy of Eugenia Bone
Spaghettini With Oysters, Morels, And Pea Shoots
This recipe serves four.
The sauce in this dish is created when the starch from the pasta mixes with the chicken stock. Morel mushrooms can be very tiny and very large. For the purposes of this recipe, about six morels around 2 to 3 inches tall per person will do, or the equivalent mass in other sized mushrooms.
If you are using dried morels, rehydrate in cool water for about an hour, and then wash thoroughly. Morels have lots of crevasses so it is important to wash them well. To do so, swirl the morels in a large bowl of cool water, then rinse. Wash right before cooking; if you wash the mushrooms and then refrigerate them they will begin to rot.
4 to 6 tablespoons unsalted butter
2 tablespoons thinly sliced shallot
24 fresh morel mushrooms, washed well
Salt and freshly ground black pepper to taste
24 oysters, shucked, with liquor strained and set aside
1 ½ quarts chicken stock
¾ pound spaghettini
6 to 8 tablespoons pea shoots or baby arugula
Heat the butter in a Dutch oven over medium heat. Add the shallots and morels and cook, stirring frequently, until the morels emit their liquor (dried morels won't produce much liquid), and become perfumey, about 5 minutes. Continue cooking until the shallots are soft and the morels are cooked, another 7 minutes or so.
Bring the stock to a gentle boil in your pasta pot over a medium high heat. Season the stock to taste. Add the pasta. It will be stiff and stick out of the stock. Be patient. Gently push down the pasta, and after about 5 minutes it will soften and collapse into the stock. Stir often, as the pasta tends to stick together. Cook the pasta in the stock until it is al dente. You will notice the starch from the pasta thickens the stock to create a sauce. Add a little more stock or water if the sauce gets sticky. Do not overcook the pasta. It is best to serve this pasta loose.
Add the cooked morels and raw oysters and broth to the pasta and cook for a few minutes until the oysters are opaque and the flavors meld. Season to taste.
Pour the pasta into a serving plate making sure each serving gets equal numbers of mushrooms and oysters and garnish with the pea shoots.
Note: It is best to use thin spaghetti (spaghettini) or thin linguini (linguini fini). They will absorb the stock more efficiently. Thicker pasta will work, but you will need more stock and the taste will be wheaty. Very thin pasta like fedelini is good, but it absorbs fast, and tends to get knotted and overcooked. If I use stock to cook fedelini, I prefer to serve it as a soup.