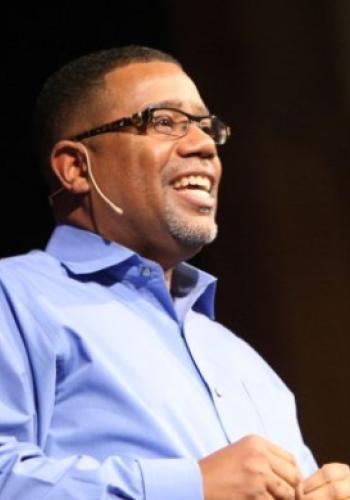 Dr. Alex Gee has spent the past three decades serving as an advisor, coach and teacher to countless leaders from all sectors from all over the world. As a master bridge-builder, Gee has worked to connect people to those with whom they'd never considered building strategic alliances; with their faith and purpose; and people to their hurting world around them.
Dr. Gee's career has been established on building strong networks with trustworthy individuals who helped him build a name for himself in the non-profit, faith and business communities.
Gee's sage wisdom and incredible insight into individuals, relationships and systems have gained him influence with leaders from civic, corporate, non-profit and academic sectors as well as athletes, entertainers, governmental leaders and dignitaries.
Gee is an incredibly gifted community, social entrepreneur, author, cultural theologian, adjunct professor, family and men's counselor, lead pastor and community organizer and developer.
Dr. Gee's professional arsenal includes a Doctorate in Transformational Leadership (Bakke Graduate University), two published books, extensive research on the dynamics of human relations (particularly the impact of fatherlessness in Black males), identity, purpose and strategic partnerships. He has over thirty years of pastoral and counseling experience and over twenty-five years of experience in non-profit management and effective cross-cultural leadership development. For the past few years he as served as an adjunct professor in Edgewood College's Doctoral Studies Program in Madison, WI, and North Park Theological Seminary in Chicago, IL.
Gee is the lead pastor of Fountain of Life Covenant Church, a multiracial, multigenerational and multi-class congregation in Madison, WI. In 1992 he also pioneered The Nehemiah Center for Urban Leadership Development, a non-profit organization that enhances the quality of life for his entire city by inspiring, developing and mobilizing emerging African American leaders to become key partners in revitalizing and transforming their city. His commitment is to work to reveal grace and hope in every sector of the city of Madison, including the business community, The University of Wisconsin, City Hall and the State Capitol. Gee has worked to empower countless fatherless children, ex-offenders, drug addicts, teen parents and racially divided communities. He is passionate about promoting hope, transformation and justice for disenfranchised African American people everywhere.
Most recently, Gee has nudged his local community to rethink racial unity by launching an incredible citywide movement called Justified Anger, named after a stirring viral essay he wrote about his experiences growing up Black in Madison, WI. Gee has assembled an impressive team of African American influencers from local business, university, community agencies and churches to create an impressive plan called "The Our Madison Plan", designed to unify Madison's divided communities.
Gee is a much sought after lecturer, advisor, consultant, motivational and keynote speaker and preacher.